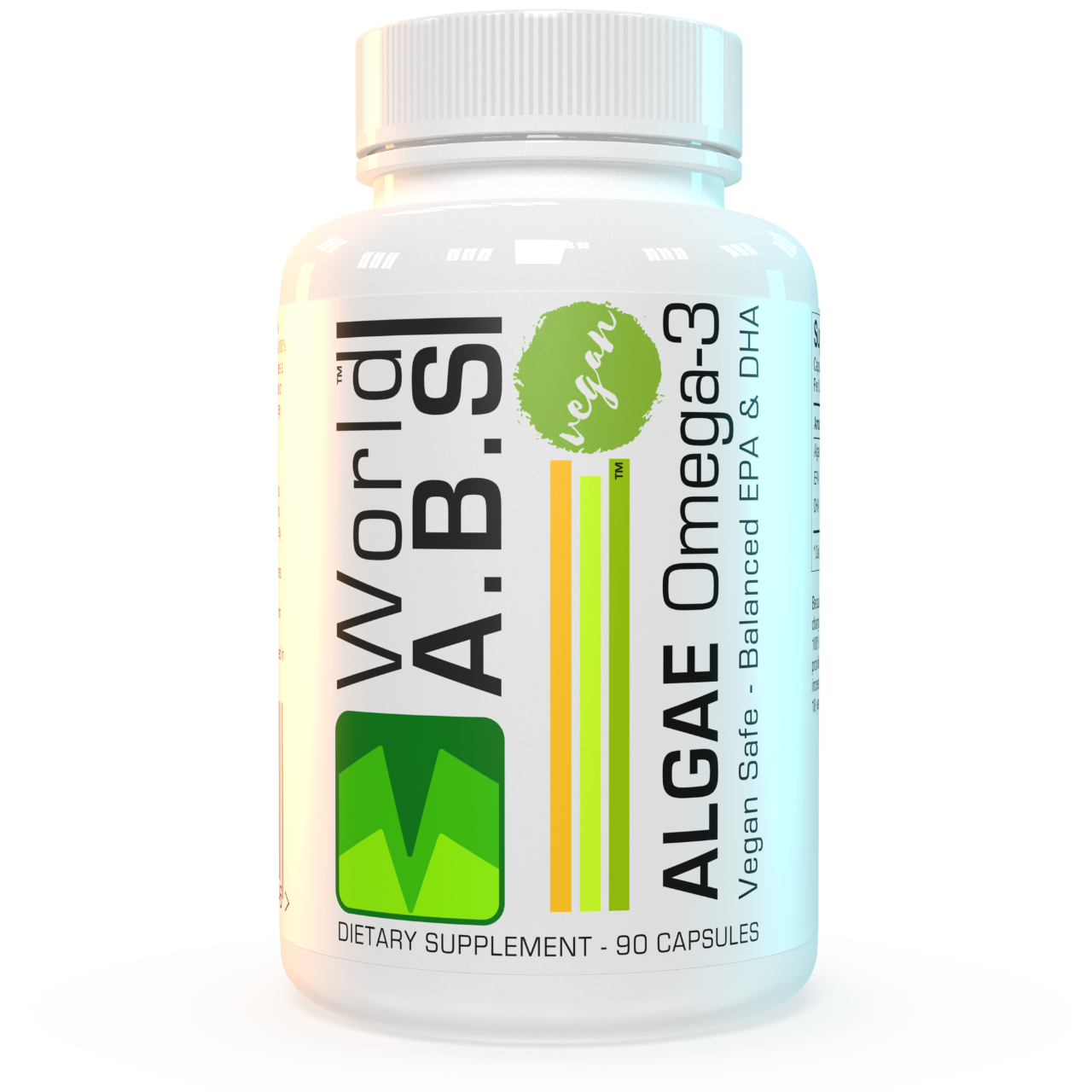 Vegan Safe ALGAE Omega-3 ~ EPA & DHA
Why Is Omega-3 So Important?
Omega-3 is an essential fatty acid vital for a long healthy life. While an abundance of Omega-6 is found naturally in the western diet, Omega-3 is hardly present. This unnatural lack of Omega-3 has been linked to a wide range of health problems such as raised cholesterol, heart disease, cognitive dysfunctions including depression, anxiety and concentration, as well as long term health effects such as arthritis and diabetes.
"EPA levels are under constant demand and low EPA levels in adults correlates strongly with mental health issues, including depression, dyslexia and dyspraxia, heart problems, joint and bone conditions, as well as neurodegenerative diseases such as MS and Parkinson's.
Why ALGAE Omega-3 
World A.B.S - ALGAE Omega-3 is produced from U.S. based algae farms having zero impact on the marine environment, and then encapsulated in vegan safe hard-shell capsules. Besides the environmental benefits of moving to algae based omega-3, World A.B.S ALGAE Omega-3 is designed to give you a healthy balance of long chain omega-3 EPA and DHA that can be increased or lowered in dosage depending on the users requirements.
Most adults will require one to two capsules per day to get all your omega-3 requirements this dosage can be increased up to a maximum of four capsules per day for those who require high dosages of EPA and DHA.
Omega 3 Benefits
 Controls cholesterol
Improves cardiovascular health
 Massively beneficial for cognitive function
 Long term usage reduces arthritis & Diabetes 
View Certificate of Analysis for LC-03™
Product Spec
Active ingredients
Other ingredients
Ingredients per capsule
Total fill weight
Production
Capsule size
Capsule type
Per container
Serving size
Directions
Suggested use
Common uses
Extended use
Other information
Eicosapentaenoic acid (EPA) • Docosahexaenoic acid (DHA) 
Hydroxypropyl Methylcellulose (Vegetarian Capsule Shell)
330mg of Eicosapentaenoic acid (EPA) • 170mg of Docosahexaenoic acid (DHA)
500mg

cGMP and

MSC approved
0 (zero)
Vegetarian safe
90 x 690mg - (1 to 3 months supply depending on usage)
1 Capsule
Take 1 to 4 c

apsules 

daily
Take on an empty stomach before food
Used for cardiovascular health, cognitive health and lower cholesterol 
Can be used continually
Free from contaminants